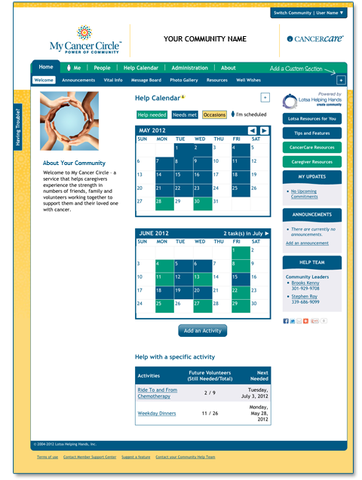 What Can I Do to Help?
Welcome to My Cancer Circle, a free, private support community for caregivers of people facing cancer. My Cancer Circle was created by Boehringer Ingelheim Pharmaceuticals, Inc. ("Boehringer Ingelheim") in collaboration with CancerCare. To learn more about this tool and its features, watch and share the My Cancer Circle video.
At Boehringer Ingelheim and CancerCare, we understand that cancer profoundly affects family members, friends and others who are close to a person diagnosed with cancer. It can be especially difficult and overwhelming for that individual who also becomes the primary caregiver. As a caregiver, you may be juggling multiple tasks, in addition to managing a family, work and other priorities in your own life. You also may have several people asking, "What can I do to help?"
Now, with My Cancer Circle, you have a simple online tool to help organize the community of people who want to help you. It coordinates their efforts to more efficiently support you and your loved one facing cancer. Learn more about coordinating these efforts by viewing the My Cancer Circle Fact Sheet.
You will also find resources provided directly from CancerCare that can help you in your role as a caregiver. Members of your My Cancer Circle community can post words of encouragement and support. You can also post routine updates and information you want to share with your private community circle.
Who Should Create a My Cancer Circle Community?
Anyone can create a My Cancer Circle community, but most often it is the caregiver or a close friend of the family. It only takes about 60 seconds to create a new community.
Now, when people ask what they can do to help, you can invite them to create a community for you or join the one that has been created. Once your circle is formed, you'll have the support that results from the power of community. It can empower you and give you time to focus on what's important—caring for your loved one with cancer.